Hello All,
This morning I had some prior arrangements, but figured I could run out for a few hours and hit a small patch I discovered not long ago. I gave this area quick once over about three weeks ago, but never really got to slow down and concentrate where the majority of the nuggets were found. Most of the nuggets seem to be running a straight line down the ridge. I decided to focus "Low and Slow" in this zone to see if I might have missed any.
Well after about 2 hours of detecting, I ended up with 3 gold nuggets, one .45 cal shell casing, metal button, one old bullet lead and a couple of pieces of iron rubbish. Not too bad for a few a few hours of detecting. Nugget weights were 1.6, 1.5 & .6 Dwts.
I also played around with the new Minelab Pro-Find 25 Pinpointer. Works pretty well, but you need to get within a few inches of the bigger nuggets for pinpointing. This is normal for most pinpointers though. On larger metal objects likes coils, rings and such, I'm sure the depth is much greater.
Here is a picture of my finds, gold and junk. I was using the Minelab GPX 5000 metal detector and Nugget Finder 14-inch elliptical Mono.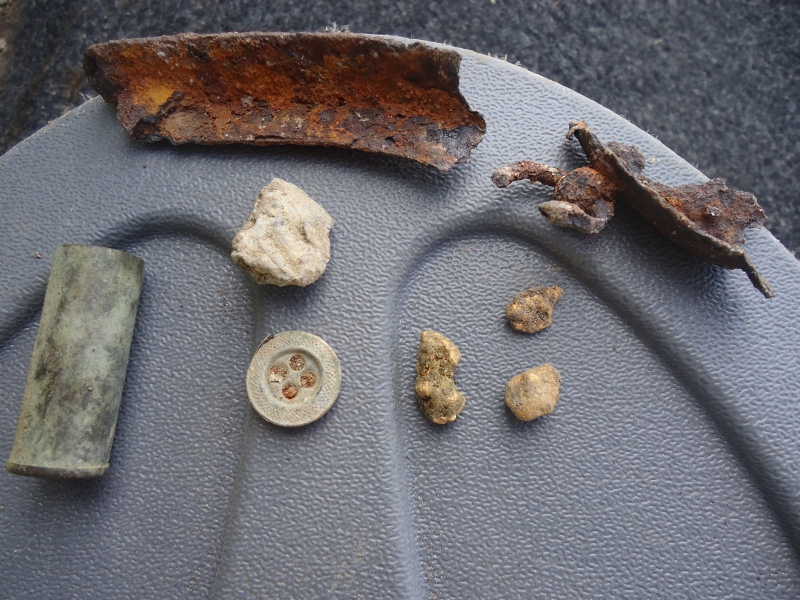 Take care,
Rob Allison