As many of you know my Wife Robin joined the 1 oz Nugget Club last Summer, with a very nice 21.4 dwt'er (photo below). She really didn't want a big giant nugget ring that El Dorado (Steve) is famous for crafting for the men folk. So Steve, e-mailed me a few photo's of Lady nugget ring's he fashioned and Robin, started to get a few ideas! With only 1 visit to Steve's house, they figured a battle plan and Steve set to work on her 1 oz Club Ring. Steve, knows Robin well and he fashioned for her the most perfect Lady's Nugget Ring filled with her Birth Stone and gold that she detected. Today, we watched Steve put the finishing touches to her ring in setting the Cab and the final polishing of the ring. It was like watching a brain surgeon at work with his jewlerist glasses on and his steady hand at work...all done in the Man-Cave. Robin, didn't say much on the drive home, she was catching the setting sun sparkle with a very content smile on her face. Thanks Steve, Robin is One Happy Prospector and a proud member of the 1 oz Club Fraternity.
Fellow members give Steve a call, he will bend over backwards to make you as happy as Robin & I.
LuckyLundy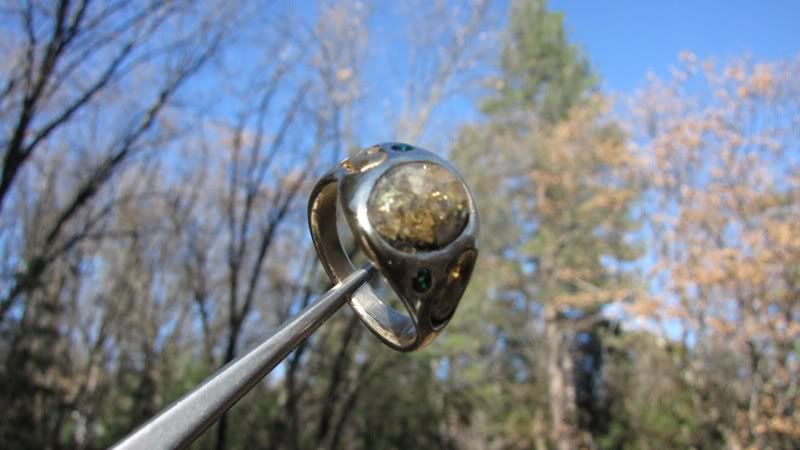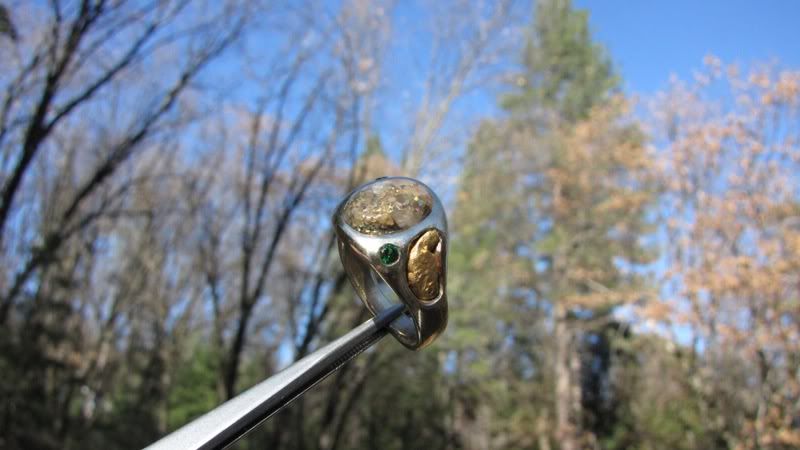 Yes, a small picture of Robin...but her smile makes it a big picture!