Hello All,
Sounds like the Greaterville Goldfield has now reopened. Personally I haven't been down there in years, but it was a fun place to hunt during the Summer seasons due to the higher elevation. It would be 110 in the Central Arizona goldfields, but only about 90 degrees at Greaterville.
Over the years I've done pretty well down there. I have to give credit to several friends that showed me around the Goldfield originally and where many old patches and scattered nuggets and specimens were found. With that information and hundreds of hours of exporing the goldfield with several partners, we opened up a bunch of places where we found nuggets.
At the goldfields of Greaterville, we found nuggets and specimens in the washes, side gulches, rolling hills and even on top of small ridges. To be honest, you could find a nugget just about anywhere!
Here is a piece I found, 3/4's of a Pound (9.1 troy ounces) with a Minelab GP Extreme metal detector with a Coiltek 14-inch round Mono Searchcoil. The nugget was found at approx. 28-inch deep and was standing on edge. It was just a whisper, if that, and I almost walked passed it thinking it was mild ground mineralization.
There has been some nice nuggets and specimens found in Greaterville, but this was one of the larger, solid nuggets found that has been recorded as a find. I'm sure back in the early days, nuggets were found much larger, but still pretty rare.
I have been back, along with some other guys with newer detectors and have found nuggets up to about 1/4 ounce in size along with smaller ones. The area has been pretty hammered, but I'm sure with enough time and patients someone will turn up another nugget or two from the area.
Thought you would enjoy since this Goldfield has reopened for nuggetshooting. Good Luck out There!!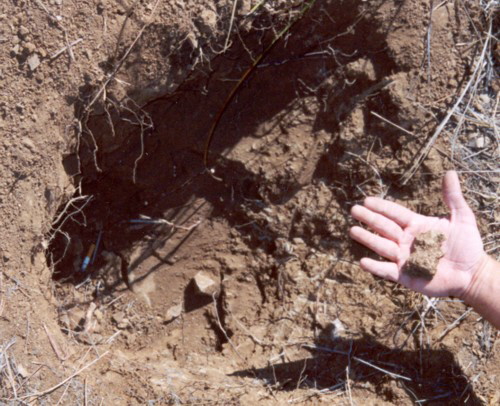 Rob Allison